A longline consists of a mainline and snoods with baited hooks, dangling at evenly spaced intervals. The length of a longline can range from few hundred meters in coastal fisheries to more than 100 kilometers in large scale industrial fisheries. Such longlines can have more than 20,000 baited hooks.
The fish are attracted by baits or lures, hooked and held by the mouth until they are brought aboard the operating vessel which periodically hauls the gear. Once in the water buoys with high flyers are marking the longline at the surface.Longlines can be set to hang near the surface (pelagic longlines) to catch species such as tuna, dolphinfish and swordfish or along the sea floor (demersal longlines) for demersal fish such as halibut or cod.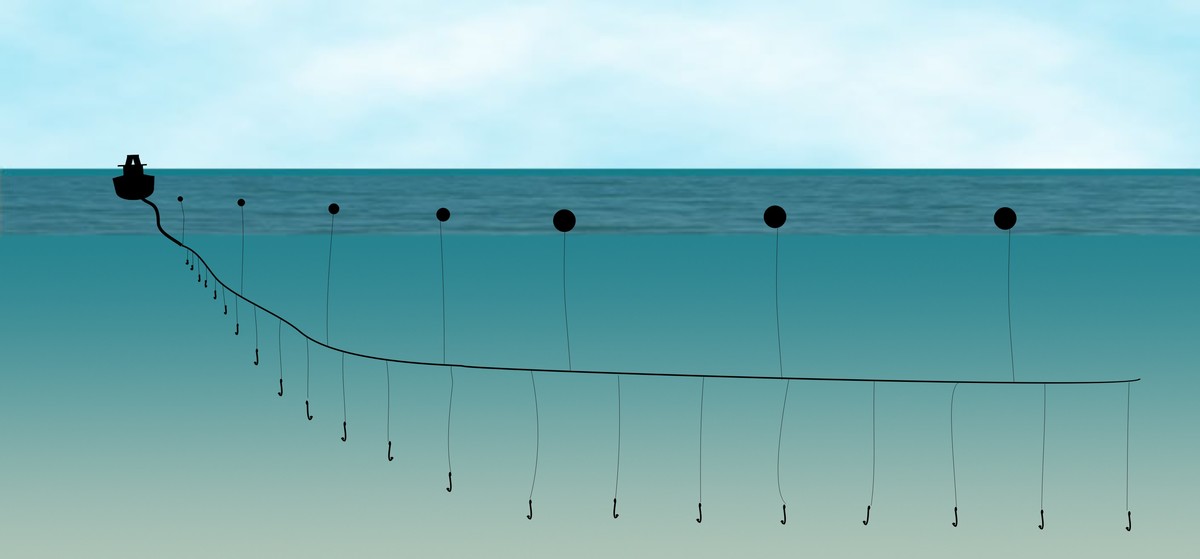 The most negative impact of longline fisheries are the bycatch of turtles, sharks and seabirds. An example: In the North West Atlantic pelagic longline fishery it is estimated that for 20,000 swordfish ~100,000 blue sharks are caught as by catch. The fishery also catches up to 1200 endangered loggerhead sea turtles a year.

Seabirds are especially threatened by baited longlines: Up to 300,000 of them are killed every year by longline fisheries. Seabirds, including endangered albatrosses, often dive for the bait and become ensnared by the hooks. Out of 22 albatross species 9 are listed as endangered and 6 as vulnerable, with the main threat coming from mortality in fisheries.

---
Learn more about the techniques of modern fisheries here.